BOATHOUSE RESTAURANT
DINE ON LAKE MUSKOKA
TABOO MUSKOKA NO LONGER ACCEPTS CASH AS A FORM OF PAYMENT, PLEASE PLAN ACCORDINGLY.
Join us in the Boathouse! Located overlooking beautiful Lake Muskoka, the Boathouse offers ample seating for Muskoka residents, resort guests and cottagers. Come enjoy a warm meal and a fantastic view!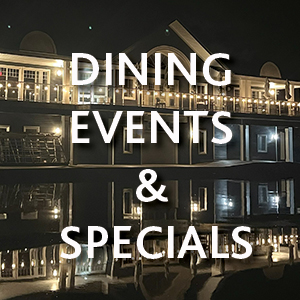 For a list of all of our Dining Events & Specials click here
---
Menu
---
Drink Specials
9am to 3pm daily
Mimosa Bar
Bottle of Cabert Prosecco (750ml) - Pomegranate, Orange, and Grapefruit Juice - $65
Taboo Caesar (1oz) - Vodka, Walter's Clamato Juice, Spicy Green Bean, Celery, and Taboo House Rim - $9
Mimosa Cocktail (5oz) - Pomegranate, Orange or Grapefruit Juice - $9
Daily Drink Specials
Beginning at 12pm
Margarita Mondays - Choice of Traditional, Blueberry, Raspberry or Pomegranate - $10
Wind Down Wednesdays - ½ Price Bottles of Wine (750ml)
Taboo Thursdays - 16oz Local Tap Beers - $10
Finally It's Friday - Bar Rail - $6
Sangria Sundays - Pitcher of Sangria (750ml) - Choice of Red or White - $50
---
Hours of Operation
The Boathouse Restaurant is now accepting reservations, please call 705.687.2233  Ext.5747.
Note: We do not accept cash as a payment method.
Boathouse Hours & Information :
Restaurant Monday to Saturday
Breakfast: 7:30 am – 11:00 am
Lunch: 11:45 am – 4:30 pm
Dinner: 4:45 pm – 9:00 pm
Restaurant - Sunday
Breakfast: 7:30 am – 11:00 am
Lunch: 11:45 am – 4:30 pm
Dinner: 4:45 pm – 8:00 pm
Bar Sunday to Thursday
9:00 am – 10:00 pm
Bar Friday and Saturday
9:00 am – 11:00 pm
*Hours vary based on business levels
---
Contact
Call 705-687-2233 ext. 5747
---